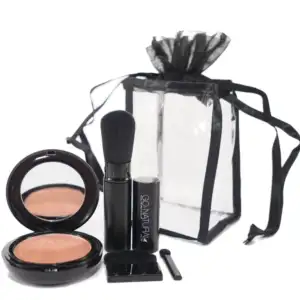 Professional Magic Powder
Instantly does all 8 cosmetics ALL-IN-ONE, eliminating the need for separate foundation, concealer, blush, bronzer, lip-color, eye shadow, illuminator, hi-lighter, contour, brow color & more,… and ONE revolutionary intuitive shade is universal & self-adjusts to all skin-tones & types, for true natural results, taking the guesswork out of shade selection.
◆ REGULAR COMPACT – Single pressed powder that self-adjusts to all skin tones to produce true innate color for you & functions instantly as your blush, foundation, eye-shadow, concealer, lip color & more…all-in-one.
◆ Just brush on & go…it's that easy.
◆ Beautiful doesn't have to be complicated.
◆ One product you can use on your eyes, cheeks, lips, everywhere, and looks healthy and beautiful on every skin tone and type.
◆ Enjoyed By Women Of All Skin Tones…All Skin Types & All Ages
#go natural products # go natural makeup