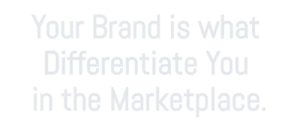 Building a Brand is not HARD.  It is DIFFICULT! It's difficult enough that it requires investment of hundreds if not thousands of dollars to stand out above the competition. Only those who can adapt and evolve with the circumstances will strive and survive.  "Survival of the Fittest" as they say.  That being said, Brands need to establish an intrinsic value to customers that will stand the test of time to stay relevant.
Don't lose your business to competition. Send us a message or give us a call.
Get in Touch
Brand Awareness
Are you showing up on any platform searches?  Having a brand but not being recognized is not enough.  That's where our strategy and solutions  for Brand Recognition comes in handy.  We will take your brand a step further and stand out above the competition.
Brand Protection
We will ensure that the integrity and good reputation of your brand is incessantly shielded from unscrupulous players in the marketplace. In coordination with our clients, we will put in place the legal foundation necessary to protect your brand through Brand Registry.
Rank Higher with Listing Optimization
Our team of experts will bring their knowledge and expertise to optimize product listing to help your brand produce better results and earn more traffic and conversion of your business.