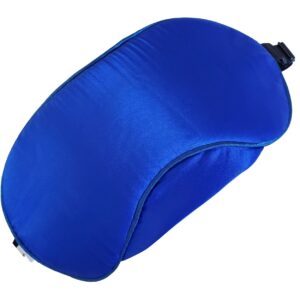 100% Silk

Imported

♥ Premium Quality: The silk sleep mask is made of skin-friendly silk to make it soft, helping your tired eyes relax. The slimline silk face mask has a unique shape designed with exquisite craftsmanship to give ultimate comfort, and a nose flap to help prevent shifting.

♥ Comfortable Material: The silk eye sleeping mask has an ultra-soft and comfy feeling with silk material and cottony soft filling in the padded portion of the mask. The silk eye mask has a stretchable headband that will not cause any inconvenience or irritation, and you will never feel like you are wearing anything extra on your eyes.

♥ Colourful Variety: Our cute sleep mask is available in three beautiful colours; Pretty Pink, Royal Blue, and Midnight Black. The eye masks for sleeping comes in 3 colours to complement your nightgown so you can have a peaceful sleep while maintaining your stylish, chic look even during sleep time!

♥ Perfect For All: The adjustable elastic strap makes this silk sleeping mask suitable for people with almost all head sizes. The soft and comfortable eye cover is perfect to be used by everyone, especially people who easily get disturbed by light at night, suffering from insomnia, migraine, etc. The silk mask also makes an ideal gift on special occasions like birthdays, Father's Day, Mother's Day, Christmas, etc.

♥ Multipurpose Eye Mask: This sleep mask serves as a perfect eye shield to protect your eyes from the light to give you a peaceful sleep. You can use the cooling eye mask at night or afternoon, during travelling in a car, bus, plane or train, for yoga, meditation, etc.
#sleep mask blackout #eyemask #sleepmask #silk sleep mask #sleepmask for men #sleepmask for women #jinkys sleep mask